6 Month Pregnant Model on a Catwalk at MFW
The Milan Fashion Week is over, but it has brought a lot of surprises. One of the most memorable things is a 6 month pregnant model, who appeared on the catwalk in a swimsuit during the fashion show.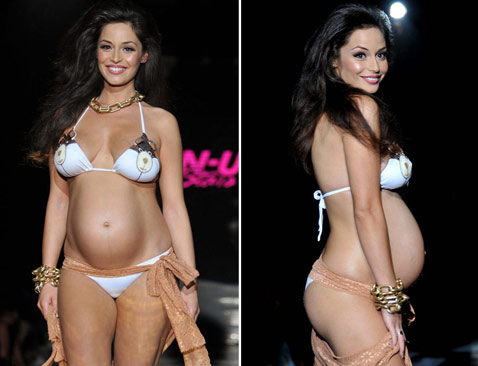 The show presented by the Italian Pin-Up Stars underwear brand caused quite a stir in the international media (and it could have been unnoticed!). It can be considered a good PR move: the organizers of the catwalk ran the risk and … released Raffaella Fico, a 6 month pregnant model, on the catwalk. The girl defiled and changed a few swimsuits during the show, successfully balancing on her high heels.
By the way, 24-year-old Raffaella is known not only as a model, but as a beloved woman of the Italian soccer star Mario Balotelli. The name of the rebel was on everyone's lips after the recent European Championship. Mario learned the fact that he was to become a father shortly before the match against Germany. Fico told him the good news on the phone. The would be mother said in one of her interviews that Balotelli was extremely happy.
Meanwhile, by that time the model and the soccer player had already separated. Raffaella broke up with her boyfriend shortly before the tournament because of his constant love intrigues. Well, Balotelli is known for his uncontrollable character: he did not consider such adventures shameful even after he had proposed to Raffaella last winter! Today, the couple's relationship is as stormy as before: the frustrated husband and wife reunite and separate again, unable to reach any compromise even as they anticipate the birth of their baby.
While Fico tells the reporters that the child will be proud to have the name of Balotelli, Mario… requires a paternity test! After all the quarrels and disputes, the soccer player decided that she just wanted to earn some money using his name, giving interviews about the pregnancy and publishing their photos. Hearing that, Raffaella immediately agreed to conduct a DNA test and said she did not dream of getting married with the rich footballer. According to her, Mario was wrong if he thought she needed money. They both wanted the baby, and Mario repeatedly told Raffaella about it, when everything was good.
We hope the couple's passion will subside, and in the meanwhile we can admire the cheerful pictures from the catwalk. How do you like Raffaella's figure? We do love it. Still, she is not the first model to appear on the catwalk in a family way. The same thing had already been done by Miranda Kerr, Alessandra Ambrosio and many other girls (although in early pregnancy). Fico's defile was not the only surprise at the Milan Fashion Week: the Philipp Plein show was marked by the appearance of a transsexual model Lea T. among the participants of the defile… Although is it still a surprise for anyone today?