Alyson Hannigan Is Expecting Her Second Child
Alyson Hannigan's character on CBS's popular sitcom How I Met Your Mother, Lily, is pregnant, but Hannigan won't be needing additional padding to act, for she is also expecting!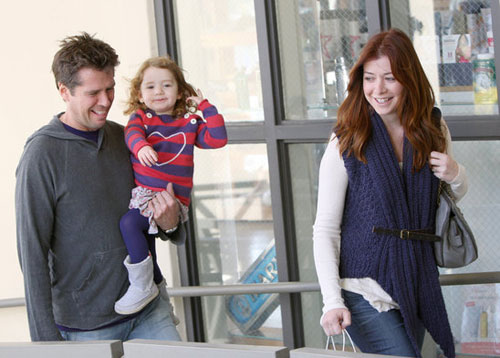 As the actress was caught on camera in Santa Monica on Thursday talking into her cell phone, she showed an unmistakable baby bump tucked nicely under a thin crocheted sweater and a vest worn over jeans.
Having tried for a while to conceal the fact by wearing loose-fitting clothes, Hannigan came unclammed finally – her rep informed Us Weekly exclusively that she has been heavy with a child for some time.
There is also a confirmation from an inside source that the 37-year-old actress is pregnant – and "is thrilled to be"!
Hannigan is married to actor Alexis Denisof, 45, whom she met on the cast of Buffy the Vampire Slayer and later on Angel. They have been married for 8 years and are parents of daughter Satyana, 2.
Discussing the birth of her daughter with Us Weekly back in 2010, Hannigan said that her life had taken a momentous change, and she believes her motherhood was the greatest blessing given onto her. "It filled a void I never knew was there," she added, calling Satyana a great baby and motherhood the most amazing thing in the world.