It's a Boy for Robert Downey Jr.
Did Sherlock Holmes ever have a child? They won't tell about it in the film, but he did. Robert Downey Jr. and his wife Susan Downey welcomed a son on Tuesday, at 7:24 a.m., as confirmed by the actor's rep.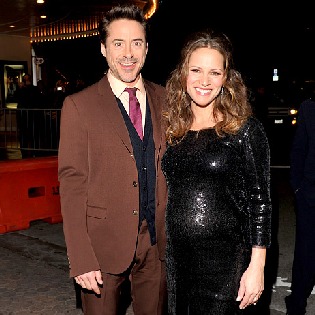 Us Weekly informs that the new Hollywood baby, named Exton Elias Downey, was born 7 lbs 5 oz, 20 inches from pate to toe and perfectly healthy. The sex had been known from December when Downey and his wife got back from their late fall Hawaiian holiday romp.
Afterwards the Game of Shadows star, 46, discussed the expected arrival light-heatedly with Jay Leno on The Tonight Show, telling the host that he thought he was taking his wife's pregnancy harder than she did, joking about "the hormones on and the mood stuff and the nausea and the whole thing."
When E! News reminded him in October of a struggle with dirty diapers awaiting him, he brushed it off casually promising to deal with poop easily.
Exton Elias is Robert Downey Jr.'s second son (the first being Indio, 18, by ex-wife Deborah Falconer), but the first for his wife producer Susan Downey, 38.