Samantha Harris Is Glad Her Breastfeeding Curves Are Gone
Samantha Harris had a good chance to rival her usually curvier Hollywood female friends – but it proved to be a short-lived success. As soon as she was through breastfeeding, her assets dwindled back to what she had before.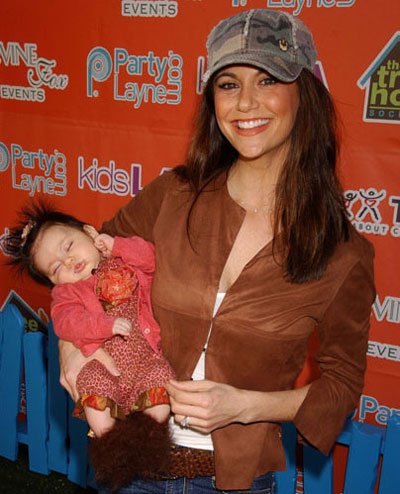 Is she worried with that?
Not a bit! Harris has other ideas about being busty – maybe because she has grown accustomed to not having big boobs. "I'm okay with that," the Entertainment Tonight correspondent confessed to PEOPLE when cornered at The Beauty Book for Brain Cancer launch event on November 14 in Los Angeles. She admitted that she wouldn't like to be famous just for her cleavage – although when she was pregnant, her breasts were very much in evidence.
But that was only a temporary growth, as she knows, since it happened this way when she was bearing her first daughter, Josselyn Sydney, 4 years ago. Now history repeated itself with her second, Hillary Madison, who turned 10 months.
When they are among themselves, most women agree that large breasts are a difficult thing to manage in everyday life, the 37-year-old says. So she is sure that the cleavage is played up for men's sake more than not.
Recently she had to make fashion choices for her bras – and she didn't like the experience. "You feel constricted" was her conclusion, you always had to mind them, especially during workouts.
But it's now a thing of the past, and Harris is promoting a new trend for the red carpet – drool-adorned gowns.
It's a design that goes back to her girls who would leave spit or other signs of their activity on her. Now it's mostly drool, laughs the happy mother, because little Hillary Madison took to gnawing her shoulder!
Meanwhile her house often reverberates with the sounds of chase as her younger is trying to catch up with her elder sister – "Hillary just wants to be around her big sister Josselyn and go wherever she goes." Harris says that this desire makes Hillary exercise a lot in her walk so she gets less wobbly at a faster rate than Josselyn did.
This is a great example of the second child syndrome at work, is the belief of Harris and her hubby Michael Hess. She remembers the time when they were doing everything they could for their first girl – now it's so different with having to be torn between the two cuties!