See First Pic of Miranda Kerr's Baby
The photos of the twelve-day-old son born to supermodel Miranda Kerr, 27, and Hollywood star Orlando Bloom, 33, are there for all to see!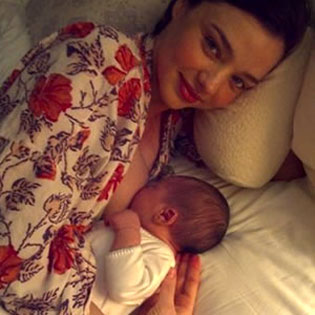 The couple not only announced the happy news, but published the newcomer's pictures taken by the father.
Kerr's blog on the Kora Organics site gave all the information on the baby on Tuesday. Son Flynn was born big and healthy, weighing 9 lbs 12 oz. Kerr shares that it was a natural birth, but preceded by "a long, arduous and difficult labor", though she didn't have to take medication to relieve pain.
The new mom thanked Bloom who was by his wife's side all the way, giving her much-needed support, and her fans for their well-wishes and comments. She confessed that she hadn't responded to all of the comments but promised to do so at the earliest opportunity.
One of Victoria's Secret Angels, who calls her son "our little ray of sunshine", added that she and Bloom are enjoying the family life and are happy together.
Kerr and Bloom got married in July 2010 in "an intimate ceremony."
Source of the image: Anythinghollywood.