It Is a Son for Gisele Bündchen & Tom Brady
Gisele Bündchen, 29, gave birth to her first baby – it is a boy, born Tuesday night.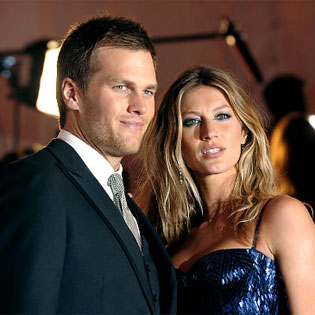 People.com got hold of the news first, closely followed by yesterday's interviews with the happy father, New England Patriots quarterback Tom Brady, 32.
Bündchen and Brady have been married since February, and commemorated the event twice, first with a private ceremony in Los Angeles, and in two months' time with a more customary wedding at Bündchen's Costa Rican estate with relatives and friends attending.
When the child was on the way, Brady chose to know its gender (which he confessed a short time before the birth), while his wife decided that she would rather not. Although she raised no objections to Tom knowing.
Talking to USA Today reporters Brady was radiant and overjoyed in spite of his having had a sleepless night! The famous quarterback referred to the birth of his son as "a wonderful experience in my life."
It is not his first child, first being 2-year-old son, Jack, begotten with actress Bridget Moynahan.
No comments are forthcoming from the reps yet.
Source of the image: masslive.com.