Suri Cruise Hasn't Seen Papa for 50 Days
At first glance it seems that Tom Cruise is an exemplary father. He sends child support in the amount of 33 thousand dollars a month to pay for his daughter Suri's health insurance as well as school and college tuition fee.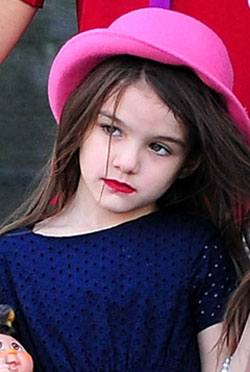 But at the same time he does not give his daughter the most valuable thing – attention. Last time Suri saw Tom 50 days ago, when the father took his girl on a trip to Disneyland, and they even managed to spend the night in Sleeping Beauty's castle.
The girl was ecstatic and refused to drop her father's hand. But every happy story comes to an end: Suri has not seen her dad for 50 days. Tom could not come even when she first went to school.
Tom's lawyer Bert Fields explained the situation:
"Tom has been in England shooting a film. He calls Suri every day, sometimes twice a day. He loves Suri and is a constant presence in her life. As in the past, when he's shooting in a foreign country, he has to rely on daily phone calls. "
Indeed, Tom has been seen in London recently – the actor was leaving a nightclub at dawn. Cruise was wearing sunglasses to hide his eyes. Let us hope he will not have to hide his eyes from his daughter Suri, who will always forgive her father's long absence – especially since Tom always compensates for his departures with pleasant gifts and walks.