Tracy Anderson's Tips on Losing Baby Weight Fast
Fitness trainer Tracy Anderson is good at bringing back to shape some of Hollywood's most famous figures after childbirth and now she had a chance to show her abilities on her own body – with a vengeance! Anderson dropped her baby weight in under two months and voiced her criticism of those who are slack about dropping theirs.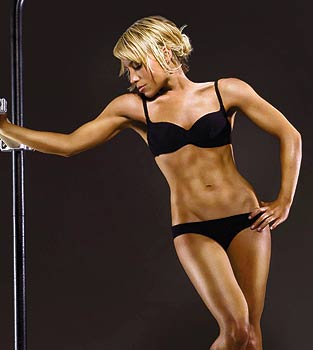 The 37-year-old celeb trainer believes that too many women look on pregnancy as an excuse to become careless about their bodies, she shared with the September issue of the DuJour magazine – while it's so rewarding to regain the shape at the earliest opportunity.
Anderson gave birth to daughter Penelope three months ago and she recounted (and showed!) that she lost excessive weight in six weeks after the delivery. But first she had assured that she wasn't putting on too much through working out and controlling her diet. Her weight gain came to 30 pounds – vastly different from her 1998 pregnancy when she had been 60 pounds heavier due to her proclivity for hot dogs and milkshakes.
Back then it had been much more difficult to get slimmer – actually it had seemed to Anderson like "an entire lifetime." It also led her to put together her special Tracy Anderson Method!
The expert who is known for getting their curves back to Madonna and Gwyneth Paltrow said she had too many women coming to her "with disaster bodies that have gone through hell" or with a body malformed by three births. She claims that however hard the journey to your previous physical self may be, it will come out "incredibly empowering" in the end.
The thing is to keep up the effort! The former dancer recalls how she used to perform, often with a lack of sleep, and hoped to cut an hour or two of dance aerobics – and now she knows she had been wrong to!