Victoria Beckham's Baby Weight Loss Secrets
For Victoria Beckham the arduous task of getting back to her svelte self is nothing new. Hardly had her first daughter with her hubby David Beckham arrived than the mother of four set to get herself into perfect shape for the New York Fashion Week starting September 8.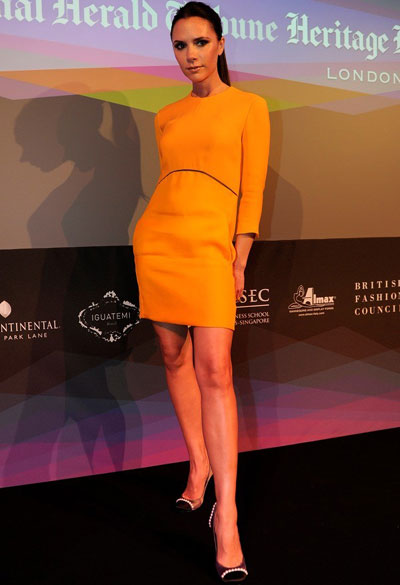 She had been through it three times already when her sons Brooklyn, 12, Romeo, 8, and Cruz, 6, were born. The former Spice Girl got down to Pilates and algae wraps that were reported to do wonders for her, supposedly making her drop 2 lb and more during a session.
The very first time, after the birth of Brooklyn, she was losing her baby weight so fast that it gave rise to a serious concern over her health; she even used to call herself a "Skeletal Spice." She was eating as she always had, but she was feeling queer.
Afterwards she managed it much easier, and now she is hard at performing her personal miracle for the fourth time, when many mothers would have quitted the fight for their waistlines.
So, when the much expected Harper Seven was born last month and Victoria found herself with extra 1 st 7 lb, she braced herself for regaining her before-the-birth stomach – and this time with a tough deadline. Grazia reports that – while the champion husband can often be seen around in the company of the boys – Mrs. Beckham retreated to a rented spacious Malibu mansion from which she intends to appear in size zero. It is rumored she is employing the new "Five Hands" diet which means she will be eating but five handfuls of food every day until the beginning of September at the least.
As is known from a source, the British celeb takes tiny bits of prawns with chilli, yellow-fin tuna sushi, smoked salmon, and scrambled eggs. Her regime is the strictest possible, sugar is a no-no these days.
Wishing to look her best for the New York Fashion Week, the mag reports, she settled with five high-protein meals enhanced with green vegetables on the fifth day after the birth. At times she allows herself to enjoy some nuts and goji berries, washing it down with nothing but water.
Victoria had been urged not to go for vigorous workouts for a couple of month after her caesarean, so she is taking it easy outside at the beach rental owned by Stephen Spielberg that costs them £93,000 per month, getting her body ready for her normal gym exercising schedule. She is going to train with Tracy Anderson in a matter of weeks, but now it is 10 minutes of Pilates and some ordinary post-natal workout.
We have every reason to believe that at the exhibition of her spring 2012 Victoria Beckham collection in New York the famous fashion designer will show no signs of her recent pregnancy – Mrs. Beckham knows how to do it!
Source of the image: Ibtimes.