Spoon-Feeding Linked with Obesity Risk
Breastfeeding is known to be a good means of decreasing the risk of putting on too much weight later in life. But so far there has been no research to tell us how breastfeeding should be combined with giving the child solid complementary food.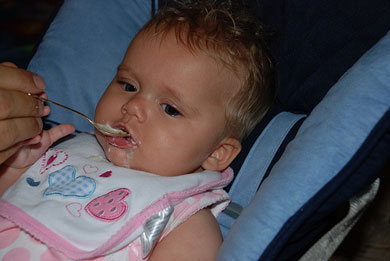 There's a new study published in the American Journal of Clinical Nutrition that fills us up on this omission.
The study reports that there is direct correlation between the time when parents begin to introduce complementary food into the child's diet and the child's body mass indexes (BMI) when he or she grows up.
The chief factor that is certain to lower BMIs in adulthood is, of course, long breastfeeding. But the time spoon-feeding begins also proved to be of importance. The earlier the child gets complementary food the greater his or her risk of gaining weight later in life. Therefore it is better to postpone spoon-feeding until the baby is past the sixth month.
"The later you introduce complementary feeding to an infant, within the range of 2 to 6 months, the smaller is the risk that the infant will be overweight as adult," is the conclusion of lead researcher Kim Fleischer Michaelson of the University of Copenhagen.
The World Health Organization (WHO) and American Academy of Pediatrics are unanimous in recommending breastfeeding for the first six months and postponing complementary food for as long as possible. Late spoon-feeding can reduce the risk of becoming obese by 5 to 10 percent.
Michaelson holds that spoon-feeding should better be delayed until the fifth month in any case.
Source of the image: flickr.com/photos/joeshlabotnik/.