American Woman Has 14 IVF-Children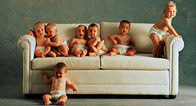 Nadya Suleman from Los Angeles suburbs, who gave birth to eight babies recently, confesses that she always wanted to have many children. Besides the newborns, Nadya, 33, has six other children. All of the fourteen children were conceived with the help of in-vitro fertilization (IVF). The happy mother will have to bring up all 14 children alone.
Nadya's mother is absolutely against such a large number of children. The grandmother points out that Nadya is not married and all of her children were conceived artificially. Nadya's gynecologist diagnosed her with tubal occlusion, which means that the woman can not have children, but Nadya found a solution, namely IVF.
A number of embryos were obtained through this procedure. Usually, only one or two are selected for future development, while the rest are destroyed. However, Nadya decided to freeze her embryos. She gave birth after successful transfer of the embryo into her uterus. Later on she repeated the procedure and eventually became mother of six, who are those days between 2 and 7 years old. The woman still had some frozen embryos, so she decided to give birth again. According to Nadya, the number of embryos that were transferred to her uterus originally was less than eight, but she gave birth to eight due to division.