14-Month-Old British Boy Is Bigger Than His Mom
Amanda Moore – whose rare bone disease makes her the smallest mother in Britain, only 3ft 1ins tall – is experiencing her motherhood oh so differently from other moms! And the first singularity she has to cope with is that her son, Aidan, is fast outgrowing her.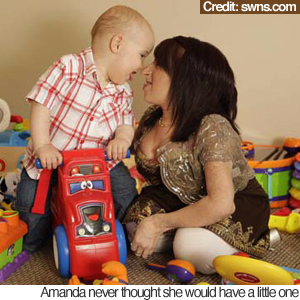 Amanda's illness, known as osteogenesis imperfecta, obstructed her growth and made her unable to stand upright. Her son is standing 2ft 6 ins and as they sit on the floor together playing he is already perceptibly bigger than she.
"I always knew he would be taller than me but he's shot up. When I sit on the floor to play with him, he is taller than me already and he's only 14 months old," says the happy mom who had to undergo caesarean section to give birth to Aidan. "He's getting so big and strong that soon we'll have to tell him to be gentle with mummy."
Oh yes, soon Amanda will have to move him about the house quite alone, with her husband Steven off at work, and that is going to pose some problems… Yet, no matter how much the kid plays up, his mom will never tell him off, she affirms.
Aidan did not inherit his mother's disease and may well be expected to grow to be as tall as his daddy – who is 6ft 1ins!
Source of the image: newslite.tv.