British Pregnant Women to Quit Smoking for Money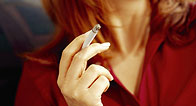 Britain's National Health Service (NHS) promises that it will pay pregnant smokers if they quit. Now the trial scheme has been launched only in one UK region, North-East Essex. Pregnant women who will kick the bad habit for the sake of their future babies are going to receive vouchers worth up to ₤100 (about $143).
Women will get ₤20 ($29) after a week off cigarettes, then ₤40 ($57) after another month and if expectant mother doesn't smoke a whole year, she will be awarded a further ₤40 ($57). You can't cheat NHS because each woman entitled to the incentive will have to undergo tests that could show exactly when they have smoked.
That is a great idea of NHS to ensure the good health of future babies for money. Probably, those who don't smoke at all could also get something for being a non-smoker for their entire life?