Ten-year-olds Feel Pressure to Have Perfect Body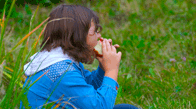 A survey, which involved 4245 Canadian school children, discovered direct association between the body mass index and satisfaction with their body. Girl displayed linear response, as the skinnier they are the happier they feel. Boys, on the other hand, had U-shaped response, as too fat or too skinny boys are unhappy with their bodies.
Canadian scientists decided to study the effect of generally accepted ideas of "perfect body" on the eating behavior of children. According to Bryn Austin, the head of the group of researchers from the Harvard University and the University of Alberta, Canada, they found a clear link between children being dissatisfied with their bodies and increased risk of eating disorders, such as vomiting, starvation, use of laxatives and diet pills.
In order to understand body satisfaction in children and how much it is related to BMI, the scientists studied prevalence of poor body satisfaction in girls and boys and its association with body weight and socioeconomic factors.
Examining the results of the study, Austin noted that poor body satisfaction among boys with low BMI can reflect the cultural ideals of male beauty, with preferences muscularity and leanness. On the other hand, thinness remains the cultural ideal of body shape among girls.
Source of the image: sxc.hu/profile/Mattox.