Woman With Donor Heart Gives Birth to Twins
It seems as though we were living inside a science fiction novel these days. People getting face transplants, scientist growing artificial human organs and tissues, and if that's not enough, an American woman gave birth to a set of twins just 16 months after receiving a heart transplant. When it became clear that she expected twins, the doctors advised her to terminate the pregnancy since having a baby was crazy.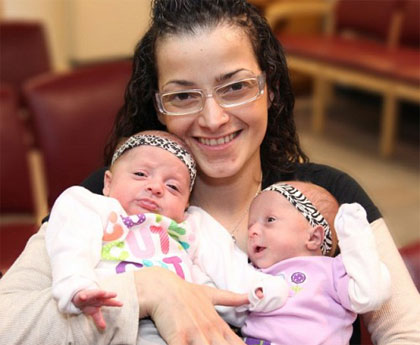 Since her childhood, Stefania DeMayo, 29, suffered almost untreatable condition called restrictive cardiomyopathy where the heart chambers are stiff and unable to supply sufficient blood flow. This condition makes it hard to live, let alone having a baby.  Stefania was on a heart transplant waiting list. It turned out the operation saved three lives.
Stefania had a heart transplant in 2008, and just several months after the operation she knew she was pregnant. Stefania was thrilled at the news since getting pregnant was like a suicide before the operation. Many doctors, however, believed that having a baby after heart transplant would still put her life at great risk. Nevertheless, Stefania and her husband decided to keep the babies. They didn't change their mind even as they knew that one of the twins was at grave risk. Finally, twin daughters were born prematurely weighing 4lbs 2oz and 2lbs 13oz. Doctors at Newark Beth Israel Medical Center in New Jersey say that mother and the twins are out of danger now.
The list of transplantable organs is growing every year. In addition to heart, kidney and liver, we now have lungs, pancreatic gland and even face transplant. Transplant patients not only survive, they enjoy a full life like others, working, exercising and having babies.
Source of the image: growingyourbaby.com.