Celebrities Whose Secrets are Illegitimate Children
Children born out of marriage are often called "born on the wrong side of the blanket" or – simpler and sweeter – "love children." It evokes the spirit of these flower children, hippies, who went out into the wild, drank and engaged in "love-ins" after which their girls delivered pretty babies whose fathers were not always present in their lives afterward. But these things did not happen in hippie communities only. All over the world, in every community, there are men who father children outside marriage, and their subsequent relationship can be vastly different from one case to another.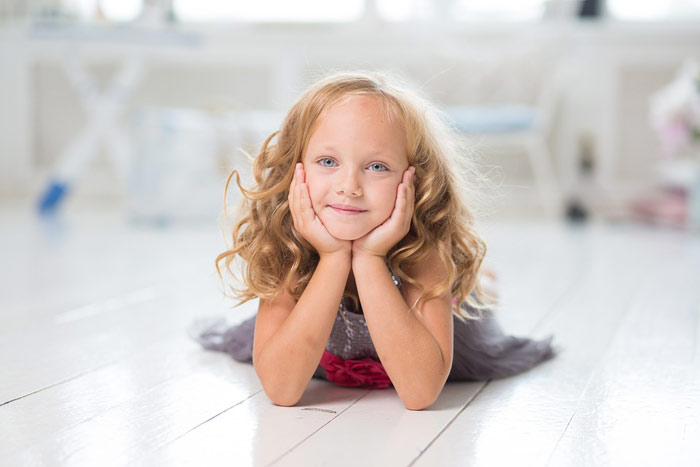 That goes very much for famous men who are always surrounded by female fans many of whom don't mind being bedded. It might be all right, and may bring around no palpable consequences, but on the other hand, it may. So, children are born whose father is a famous sportsman or actor, but he is away in an unattainable world of his own. Then again, he has other children, legitimate ones, who are on their way to fame and who have a surprise in store for them to learn they have half-siblings they didn't know about.
If some celebrity went and fathered a child in another state, you would expect him to follow the life of the child, however desultorily, provide them with childcare money and send nice gifts. Unfortunately, that is not what invariably happens. Some of these children grow devoid of their renowned fathers' love or money. Sometimes it takes legal actions and DNA analysis for these children to acquire a biological father. Then the mother and child may get some sustenance money – but hardly the love and attention every kid needs so much. When the only occasion to see your father is on TV, it is a very sad state of affairs, isn't it?
Jude Law and his daughter Sophia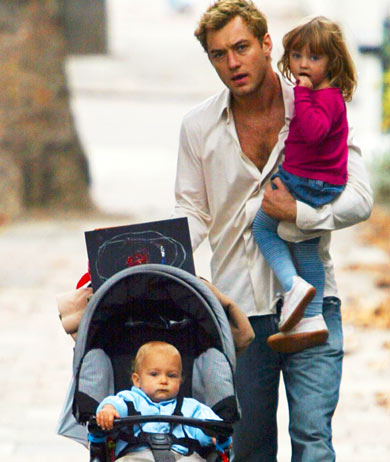 When Jude Law and Sienna Miler broke apart in 2008, the actor got hooked up with model Samantha Bourke with whom he enjoyed a very productive one-night stand. The next time they met was when their daughter Sophia was several months of age – and it was a very official meeting, with their lawyers present.
Now it appears that Law pays out a hefty sum in childcare, but goes to see his daughter only once a year – which is incomparable with the amount of time he gives his other kids, and likely much less than Sophia would like him to if the matter hangs on her opinion.
Besides Sophia, Law has three in-marriage children and one more love child, daughter Ada, by Catherine Harding, with whom he parted when she was pregnant. While Law doesn't often go to Florida to see Sophia (and her mother), he pays much more attention to Ada and participates in her upbringing.
Eddie Murphy's daughter is called Angel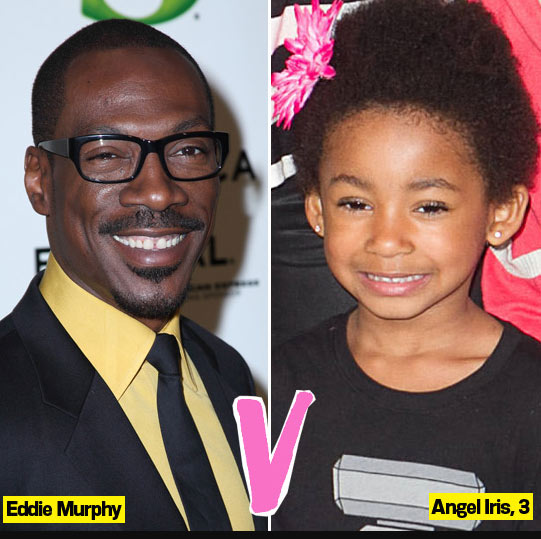 Former Space Girl Melanie B has recently received a lot of attention related to her turbulent divorce – but that's not the last breakup in Mel's life. In 2007 she had a curt relationship with Eddie Murphy, got pregnant unexpectedly and delivered daughter Angel. To which Murphy's reaction was somewhat shady – he said it needed a blood test for him to own up to the parenthood. But when there was no more doubt that she was his daughter, the actor furnished child support and gave his love child his attention.
So far Eddie Murphy fathered nine children by five women, and he remains a caring parent who sets an example of relationship and support to other celebrities – in spite of having more children than most of them do!
Michael Lohan and his daughter Ashley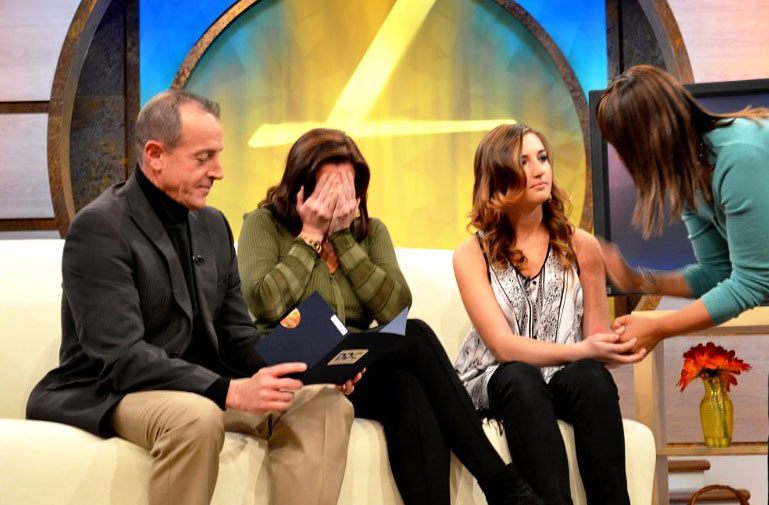 Whether Michael Lohan can be regarded as a celebrity is a moot question: apart from producing Lindsay and Ali he has hardly done anything noteworthy. Arguably, after bringing them out he proceeded to assist other family members in lousing up Lindsay's life until she stopped being a good actress and went in a spin she couldn't come off by herself. While she kept struggling with her life, Michael was busy giving her a half sister.
The girl, named Ashley Horne, came into the world in 1995, knowing nothing of her ancestry until 2012 when she turned 17. Then it was revealed to her that she is Lindsay Lohan's half sibling, and there's no knowing how she took the news (one wonders if she was more shocked or horrified!).
Ashley went on to undertake surgery adding up to the sum of $25,000, only to hear her dear father saying acidly that she was attempting to emulate Lindsay – ride on her "coat tails," as he kindly put it. As if he could say anything pleasant or helpful to his girls.
Hugh Grant and many children, with the latest daughter whose name remains a secret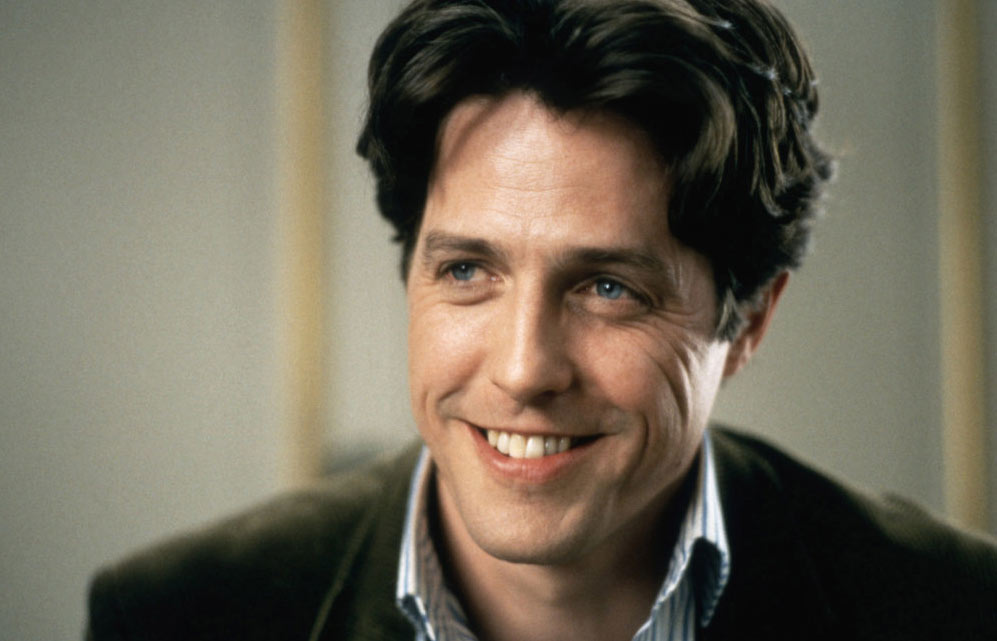 There was a period in Hugh Grant's life when he started making children like crazy! He had two women – a Chinese receptionist in England, Tinglan Hong, and his Swedish girlfriend TV producer Anna Eberstein, and he was so much in love with both of them that since 2011 he set about impregnating them in turn. First, Hong gave birth to daughter Tabitha, in the following year Eberstein delivered son John Mungo, in 2013 Hong had son Felix, and then it was the Swedish TV woman's turn, and she had a baby girl whose name is unrevealed yet!
On the wrong side of his 50ies Grant seems to be happy to be a multiple father and give money, attention and affection to all of his offspring, no matter where they are and who are their mothers, and this, despite his rather unconventional fashion of keeping families, makes him a caring parent. He may also get help from his ex-girlfriend Liz Hurley who is friends with him and who lives next door.
Seemingly Grant is in a relationship with Eberstein, but what will he say to his kids in a five or seven years' time?
Simon Cowell has son Eric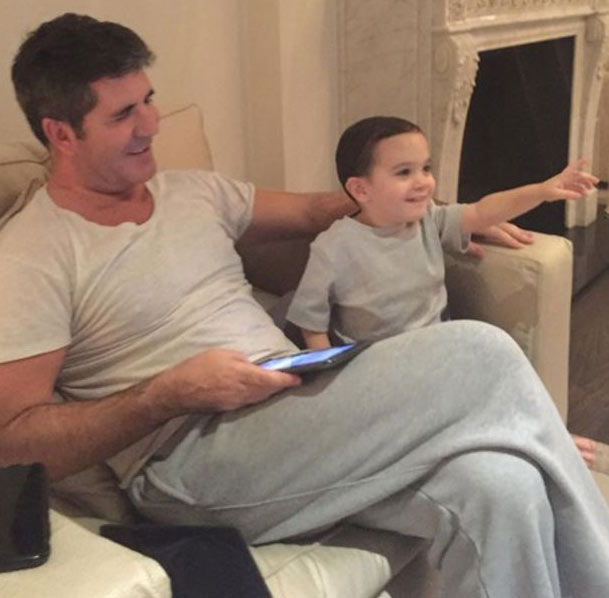 Simon Cowell is so many things on the British television that he can be regarded as a mogul – as well as a playboy, enjoying money and women coming to him from all directions. All directions accidentally included his friend's wife Lauren. It finished his friendship with Andrew Silverman (Lauren's husband) but had gotten him a son named Eric. It is believed that Lauren was told she was infertile – another proof that doctors can be badly in the wrong in these matters – and omitted to use protection. And you all know what that means. Anyway, Simon Cowell and Lauren have lived together for all those 4 years creating a cozy family environment for their son, evidently satisfied with how the things sorted themselves out. Lauren's elder child Adam moved to New York with his father.
Owen Wilson and his son Finn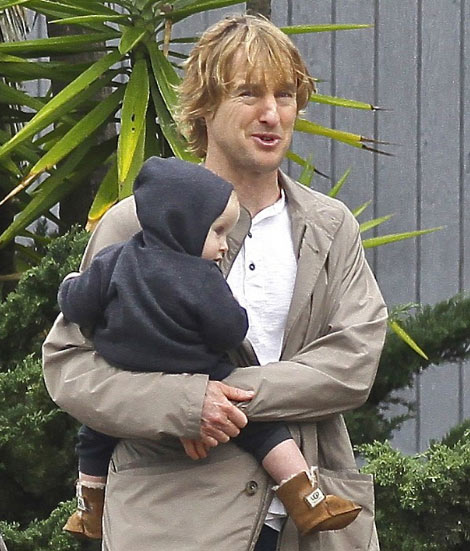 The middle one of the Wilson brothers, Owen, the funny fellow in Frat Pack, had a son named Robert born to him in 2011 by his girlfriend Jade Duell, but the couple parted soon after. Subsequently, he had an affair with Caroline Lindqvist, his personal trainer, which led to the birth of a boy. He is the "love child" of a long and somewhat complicated relationship. Owen Wilson knew Lindqvist from back in 2007 when he had a black streak in his life: his hurtful separation from his love actress Kate Hudson made him brood on suicide. They made friends and never wanted to take it any further than that – even when he impregnated her and she delivered a boy, Finn. Though both of them don't contemplate creating a family, Owen participates in Finn's life and provides child support. The two live near one another, remain in the excellent relationship and set up a comfortable atmosphere for the kid.
Gavin Rossdale and his daughter Daisy Lowe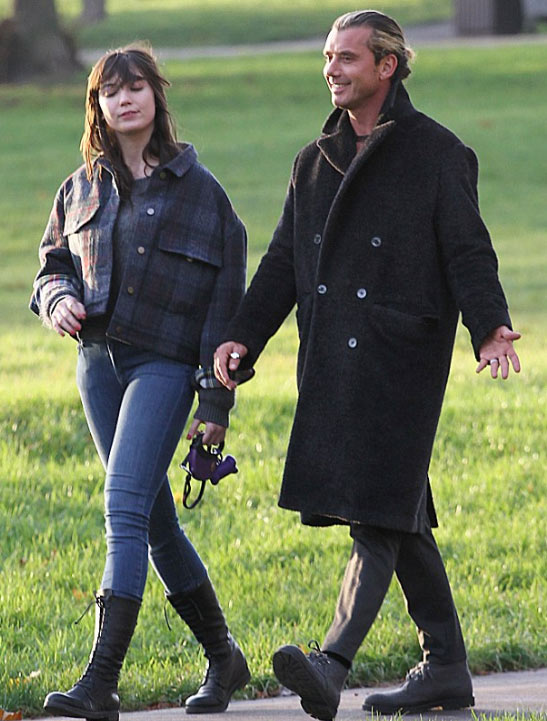 Rock musician Gavin Rossdale used to lead a rather exciting life once, running his band Bush, marrying singer Gwen Stefani, allegedly carrying on with Marilyn, and all the time he thought he had a goddaughter… when actually it was his own daughter.
Some hazy time in the 1980s Rossdale had a passionate night with a girl he knew, Pearl Love, and he never thought the night would have a consequence like this – model Daisy Lowe, now 28, who had believed she was born to Bronner Handwerger for a long time until the truth came out. Blood tests proved that it was Rossdale who was her biological father; having learned about it, the rocker stopped communication with the young model and his former lover.
Happily, since then things have changed, and as of now, they claim to maintain a sound and respectful relationship. Also, Rossdale's three in-marriage children with Stefani (sons Kingston, Zuma, and Apollo) can be spotted keeping their elder sister's company.
Steven Tyler and his daughter Liv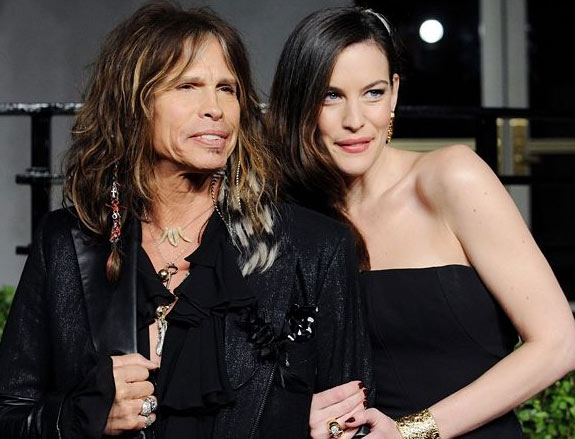 Liv Tyler lived for eight years until she found out that she was the daughter of the rock icon, Aerosmith voice, Steven Tyler. If we were to go by looks solely, she ought to have been surprised and disbelieving at hearing it.
It was a chance discovery. At eight Liv was taken by her mother, a model called Bebe Buell who used to like to hang about with rock stars, to a concert where Liv saw a girl – a spitting image of herself. It was Tyler's daughter Mia, and then the situation was obvious, the mother had to come open.
Before that Liv had gone about as Liv Rundgren, daughter of another famous musician, Todd Rundgren, with whom her mother had a long relationship at the time. Now Liv keeps up a relationship with her real father yet looks upon Rundgren as her beloved daddy.
Steven Tyler is the father of four (daughters Liv, Mia, Chelsea and son Taj) and a grandfather, known to be a loving and caring parent and grandparent.
Jack Nicholson and his children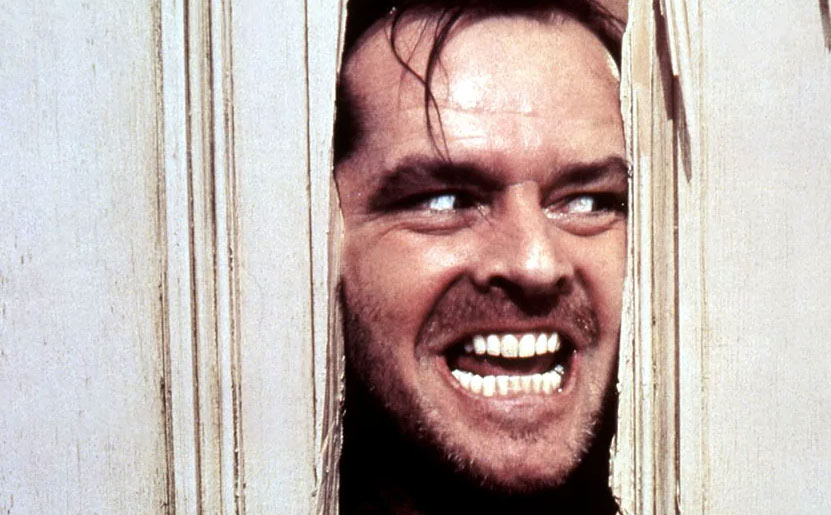 At 80 Nicholson has a lot to reminisce about – his movies and his children, and while it is quite a job to count up all his films, it's a different proposition with his children – there are four… Or five…
His only 6-year-long marriage to actress and writer Sandra Knight resulted in giving birth to daughter Jennifer. Upon the dissolution of the marriage, he had an affair with actress Susan Anspach who avers that he is the father of her son Caleb – the statement that Nicholson doesn't accept.
Then came his lasting on-and-off relationship with actress Anjelica Huston which gave the actor plenty of occasions to spend time – and make children – with other women, like daughter Honey by model Winnie Hollman; actress Rebecca Broussard gave him two: daughter Lorraine and son Raymond. Nicholson is everything a child could wish for a father, he loves and cares for all his children, and although he refuses to hold Caleb for his own son, he is believed to have seen him through college. Then he foreclosed the loan he had given Caleb's mother for a house, and that was probably not convenient for the family. So, it still remains a mystery whether Caleb is Nicholson's son, and a mystery it is likely to remain.
Arnold Schwarzenegger and his son Joseph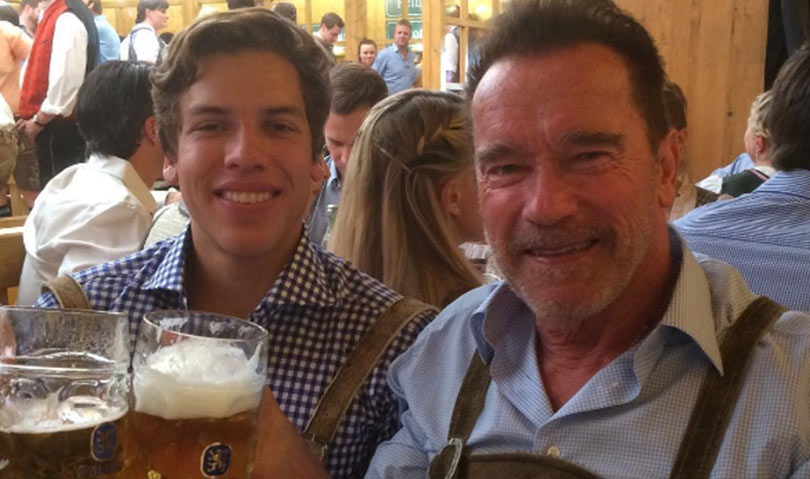 This was a much talked about the story how famous actor, ex-governor and the biggest of 'em all had a love child from an affair that went on right under the nose of his then-wife, Maria Shriver. Schwarzenegger used to bed Mildred Baena, his housekeeper until he bore him a child, son Joseph. First, it was a closely guarded secret, but in 2011 there was a Shriver-Schwarzenegger divorce and the evidence of there being a boy who resembled his father so much that it left no possible doubt. According to the actor, he was in the dark about it until Joseph's resemblance began to show. Schwarzenegger and his mistress had been doing a good job of concealing the truth for years until it became obvious and Shriver went and had it out with Baena in 2010.
Schwarzenegger fathered four children with his legitimate wife – Katherine, Christina, Patrick and Christopher, the last one born one week earlier than Joseph was. When the actor accepted Joseph as his own, he set about bonding with him and devoted quite a lot of time to him, taking him along on his travels.
Ray Charles and his children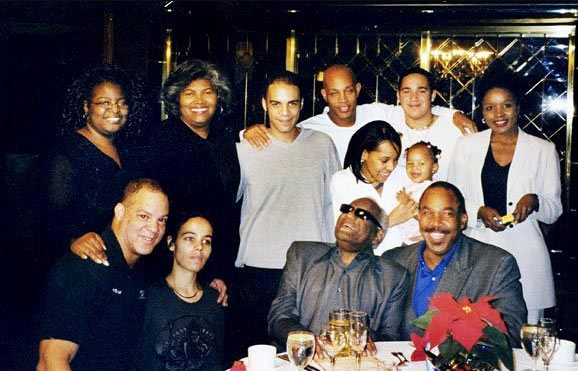 Ray Charles is a legendary figure whose musical prowess could only be compared to his extraordinary fertility and his ability to be good to women (check out his biopic featuring Jamie Foxx, it is wonderful and you will get all the lowdown). He was the father to a dozen children by nine women. He had two marriages, one lasting for one year and the other for 22 years. Della Beatrice Howard Robinson, his second wife, gave birth to his in-marriage children, Ray Jr. (1955), David (1958) and Robert (1960). After 22 years together the couple divorced, which is no wonder since the Genius managed to father five love kids during the years he lived with "Bea" Howard. Keeping in mind, of course, that Brother Ray was on heroin for years and years, and it must have taken a toll on his better qualities such as loyalty and responsibility. Also, when he died, it was discovered that his financial affairs were in a state of horrible confusion which resulted in his children getting engaged in legal disputes.
Sir Tom Jones and his son Jonathan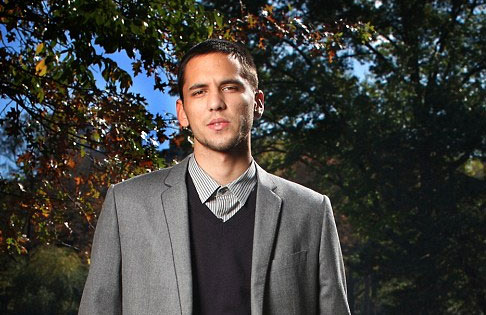 The venerable singer's son Jonathan was born Jonathan Berkery, but prefers to be known as Jon Jones. He had a lot of disappointment over his relationship with his bio father, Sir Tom, who paid child support only after the court ruling, but did nothing else, never wanting to see his boy or send him presents on his big occasions. Living in America, the boy had little chance of seeing his father – and he didn't, growing up without a male influence in his life. So, Jon began to feel forlorn, abandoned, prone to rebellion and protest. He started getting on the wrong side of the police, his mother kicked him out of the house for that, and he got used to sleeping where he could find a convenient place. His attempts to become a singer proved futile. Then he began to take and push drugs, and that sealed his fate.
Sir Tom had one legitimate son, Mark Woodward, with his wife Linda Jones (whose life, as you can guess, was no bed of roses).
As for Jon, the only thing he got from his father was a strong voice – and a complete oblivion… He might yet come to get to know Sir Tom if he is lucky enough.
Frank Sinatra's son?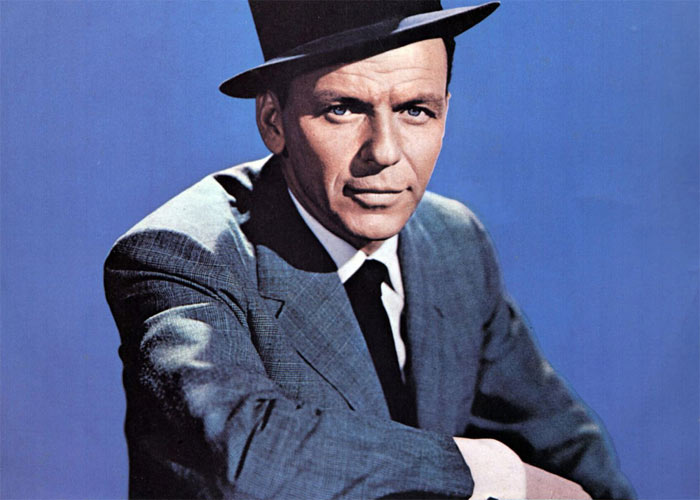 Now this one is all pure speculation, but after the revelation on the part of Mia, Satchel "Ronan" Farrow's mother, that Ronan might not be (as was believed) Woody Allen's child but "possibly" Frank Sinatra's, many people must have given him a closer look and thought: that may well be the case…
Although Farrow publicly made fun of the allegation, he may be actually not averse to it – believing as he does that Allen (from whom he is estranged) did sexually abuse his sister Dylan, which puts the famous director firmly in his black book.
As for Woody Allen, he said Mia Farrow got child support from him on her word that Ronan was his son – and she got the money, though it is well-known that while in a relationship with Allen she cheated on him with Sinatra – and no tests were ever taken. And our visual evidence is taking us nowhere. Yet – do we have it or don't we?