New Barbie Dolls: in a Wheelchair, with Vitiligo and Hairless
The Mattel company, which is known for producing Barbie dolls, launches a new line of their product designed to reflect the "diverse concept of beauty" and inclusiveness.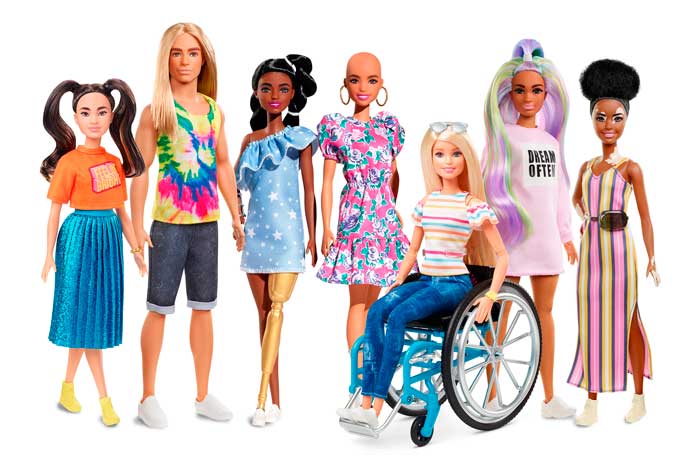 The new line, which will be released this year, includes hairless Barbie dolls, as well as with peculiar skin pigmentation of the face – just like the signs of Vitiligo disease. To create this doll, Mattel worked with dermatologists to ensure that vitiligo is displayed correctly.
According to Mattel, the company seeks to "reconsider what it means to be Barbie, or look like Barbie," adding that it will allow children to "act out more stories that they see in the world around them."
In 2019, the company showed a prototype of the new line on Barbie's Instagram account. This post became the most popular one in the history of the account, having received more than 60 thousand likes.
As for the new bald Barbie, Mattel hopes that this doll will appeal to the children who lose hair, and they will be able to see a reflection of themselves in it.
The new line also has a Barbie with a prosthesis. The brand began creating dolls with disabilities last year, and then another model came out with lighter skin. This doll was created in collaboration with Jordan Reeves, a 12-year-old girl with a prosthetic arm who works to help people with disabilities.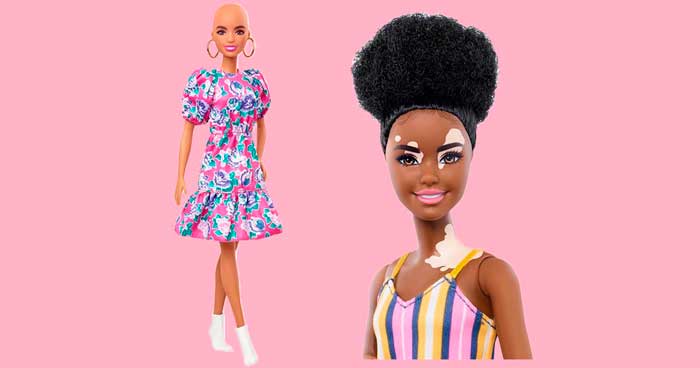 This year, the brand included a second doll with a darker skin tone in its collection. The doll has a golden prosthetic leg.
Barbie's friend Ken was also updated last year. Mattel decided to replace Ken's short hairstyle with a long-haired version. In total, Ken's dolls are available in four body types, 13 skin tones, nine eye colors, and 22 hair colors.
Mattel has been making inclusive Barbie models for the past five years. According to the company, it seeks to get away from sexist stereotypes and unrealistic expectations of beauty once associated with the doll. Barbie is currently on sale in five body types, 22 skin tones, with 76 different hairstyles, 94 hair colors, and 13 eye colors.
Over the past year, a Barbie doll in a wheelchair has been one of the best-selling models in the UK.
Mattel also released a line of dolls without gender-based differences. The toys are equipped with various options for clothing, accessories and hairstyles, and children can choose short or long hair for the dolls and dress them in a gown or pants.